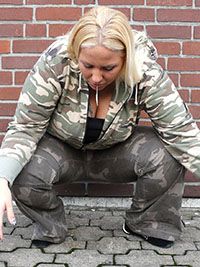 Can you image the honor of licking a big girls spit from the floor? from her shoes? Or even get spit in the face by your mistress? Drinking her gorgeous liquids after she took a smoke break?
Well, only the best slaves were granted this special honor. Look at the pictures below. This big girl spits a lot on the floor and rubs her shoe in it afterwards. Guess she's demanding one of her slaves to lick them clean afterwards - don't you think?
Spitting is definately the most sexy and humiliating femdom technique you'll ever expirience - don't miss it!