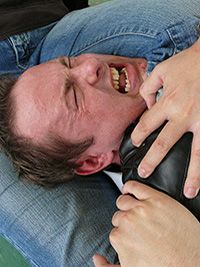 BBW ladies are always very creative in finding new ways to brutalize their pathetic objects for their own fun.
They love their slaves screaming in pain when their heads are captured between the strong tights of her mistresses - getting heavily compressed between the powerful legs. But that's just one of many techniques to torture a little slave's body.
Another powerful technique is to punch and kick the slave's stommach and chest. The mistress won't stop until the slave's skin is totally bruised and turns into a deep red before it goes blue.
Whips and crops are also great tools to physically abuse the slave - to make him scream in pain and make him obey immediately and permanent.